I just wanted to thank you for your continued support and belief in me! Look at these two pics... and see the story behind them below.
- Brendon Bourchard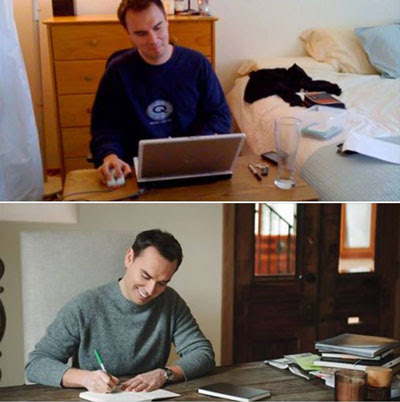 These two photos feel like world's apart.
In the photo on the top, I was bankrupt. I had just quit my corporate job to start my dream of becoming a writer and trainer.
It was only eight years ago. No one knew me. I didn't know how to write or publish a book. Facebook and Youtube were just a few years old. I had to teach myself to build websites and do online marketing. I was living in my girlfriend's apartment because I was broke. I was writing on a fold-out 'desk' borrowed from my mother's old sewing room. The apartment was so small that I used the bed as my extended desk, where I stacked all my bills and notes and fears.
One night, I watched my girlfriend walk into the bedroom and, trying not to disturb me or my papers, quietly slip beneath the covers. I saw my woman sleeping under the weight of my bills. It broke my heart, and it forced an all-in decision:
Either I was going to become a successful writer and trainer, to decide that despite the uncertainty and hardship I would never let up, to keep thrusting my intention into the distance, always going to seek it and find a way to my vision through any obstacle, until I ended up successful... or I was going to end up with the angels for having happily exhausted myself trying to improve our lives and follow my dreams.
I decided I was not going to waste my days meandering about or marching under the banner of other people's rules;
I decided I must change the situation and follow my dreams with more focus and intensity;
I decided to think bigger, to stop letting my small business make me small-minded;
I decided to fight for my art and amplify my voice into the world so that I might make a greater difference;
I decided not to worry about the critics and instead give my whole heart and effort to those who wanted positivity and progress in life;
I decided to marry that girl.
And that leads to the bottom photo.
The man sitting there is the same guy, driven by a fierce desire to live fully, love openly, make a difference.
The haircut is the same, still bad.
The daily activity is the same: writing, pouring out my soul, trying to figure out how to say things that help and inspire people.
All that has changed, really, is the venue and the platforms and the fans. Now I write in the library of one of my dream homes.
As Facebook and YouTube grew up, so did I. As of today, 2.5MM+ fans follow us on Facebook, and last year 30,000,000 people watched my YouTube videos, making my show the most watched direct-to-camera self-help series in history.
My book
The Motivation Manifesto
debuted on the
New York Times
bestseller list, my third NYT bestseller in a row. My podcast debuted at #1 in countries around the world. Success Magazine named me to their Top 25 Most Influential list along with Oprah and so many personal growth legends, and Entrepreneur rated my seminar in its Top 5 must-attends.
Now I share stages and swap phone calls with world leaders and innovators... and, finally, I don't have to eat cheap noodle dinners or watch my family struggle.
You guys made all that happen because you let a little guy like me follow my dreams and you cheered me on and shared my work.
At the beginning, there were just a few of you, five or ten. And then there were fifty. Then a hundred, then a thousand, and then, as I just stayed with it for eight years every single day with full faith and joy and a dedication to excellence and service... well, here we are.

And so I say this to you, my friends:
Never limit the vision you have for your life based on your current circumstances or competencies.
You are more powerful, imaginative, and strong than you imagine.
I had no reason to believe that I could one day live my dream as a writer and trainer; no reason to believe, I suppose, except that my heart told me it was my path, except that my mind invented dreams that felt so real, that faith said all the struggle and the hardship and the toil would be worth it.
Please, my friends, believe in your heart and your voice and your mission no matter what, no matter how small it all feels now.
The journey to legend begins the moment our bias for ease and comfort is overpowered by our drive for challenge and contribution.
Don't forget that growth and greatness often come from those seemingly endless, fruitless days and nights of faith and discipline.
Keep working, keep at it, believe.
- Brendon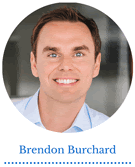 #1
New York Times
Bestselling Author
#1 Personal Development Show on YouTube
Top 100 Most Followed Public Figures on Facebook
Top 25 Most Influential by SUCCESS Magazine