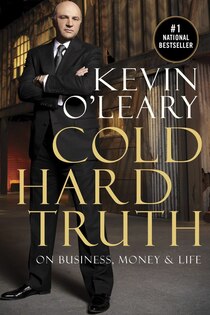 Few weeks ago had great opportunity to meet Kevin O'Leary at the Dragons' Den event at CBC Building in Toronto. They were promoting their 7 season of the show.
Recently read Cold Hard Truth and below are my insights on the book.
1st.
Kevin O'Leary talks about his family and what it meant to him growing up, how his mother invested money and patience in him. She new he was going be great, it was journey that was going to be challenging and interesting!
2nd
It's no secret the Kevin O'leary has his detractors all over world. There are many examples of conversation that have occured in the most interested places. In the end he is who is he is. His success speaks for itself and opinions of who he is and what he does are just that opinions! ( your welcome Kevin, if you read this)
3rd
The importance of the team he surrounded himself was of the elite. From the beginning at Shaw Street in Toronto where Softkey began to the board rooms of Toronto and success of O'Leary funds and TV fame (the book shares that story which is amazing)
4th
The impact he has made on the Dragons' Den has been instrumental in many success for many, and for those who didn't its okay. They can read the book!
I had the chance to speak with Kevin O'Leary at the event and we had a short and sweet conversation. I gave him my business card which says "Get Connected Make Wealth Happen" and has money symbols on both sides. He did take the time to look at both sides of the card! I was impressed and grateful he did. Who know he may download chapter of my book and learn techniques on networking or perhaps email for the rest of book :)
Moral of the Story: It has been great experience to watch Kevin O'Leary on the Dragon's Den for the past 7years and will continue to watch and learn. Reading the Cold Heart Truth gave me insight on how to succeed when you I do get on stage and face Kevin and the rest of the Dragon's in the very near future.
Jim Pagiamtzis
jim@pagiamtzis.com
http://www.getconnectedmakewealthhappen.com/members.php?uri=get-connected-make-wealth-happen-book