| | |
| --- | --- |
| | August 2015 |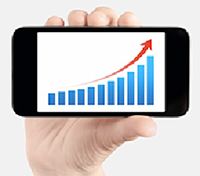 As more consumers turn to mobile devices to connect with the digital world, marketers are also getting on board the mobile revolution. But with the inherently personal nature of mobile, getting the marketing wrong by being overly intrusive or needy can kill brand loyalty.
Read More >
Everyone who visits your website is potentially a prospect for you, so here are some easy tips to optimise your signup rate with quality additions to your list.
Read More >
Three reason to participate in Podcast
Podcast is a new an informative way to sharing your experience and learn from experts in various fields. You can attend live podcasts that may occur as specific time and day or may listen to recorded podcast from previous years. This gives you the flexibility to work with your schedule and make it successful event of your day
Read more
Looking for some help marketing your business?
Since 2011, I've been offering proven email marketing strategies to entrepreneurs in the Toronto area. In that time, I've helped clients from as far away as United States get the results they need to see their business grow. And I'd like to do the same for you.
As a Constant Contact Solution Provider, I'm specifically trained to help businesses like yours. A great first step that I highly recommend is starting a
free trial of Constant Contact
today. They have the online marketing tools you need to achieve the growth you want and I can help you get set up to leverage this tool to grow your business.
And please contact me so we can get started on a marketing plan for you.
Jim Pagiamtzis
Founder of 21 Connections
Core Certified Solution Provider 2015

jim@pagiamtzis.com
416-894-7859


| | |
| --- | --- |
| | |