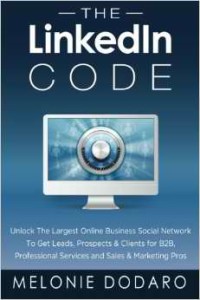 In the world of social media there are many who share insights and experiences on how to use them effectively. In The LinkedIn Code Melonie Dodaro reveals the true secrets of the power of LinkedIn the ability to get results.
Through actual case studies she share how clients took specific action and overcome a challenge and realized the opportunities the were available to them.
LinkedIn has multiple layers that can be used to create a powerful profile. The LinkedIn Code gives you the specific strategies and targeted ways to create a profile that illustrates what you do and you can do for you clients.
Buy book
Click here
Top Dog Social
Learn more